USBKey Pro product release
continue reading ...
Today, MEET begins shipping an enhanced version of its successful USBKey device. Called USBKey Pro, the new product extends the original USBKey with wireless capabilities. All the existing features and the mechanical dimensions are maintained, but in addition to handling wired input signals (typically connected to electromechanical switches) it can now also respond to wireless signals transmitted by compatible RadioButtons and RadioSensors, also available from MEET.
The total number of inputs that can be translated to any keyboard, mouse or phantom command is therefore extended from originally 10 to 48 (10 wired + 38 wireless).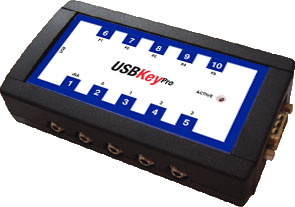 ---