MEET develops and commercializes a replacement kit for obsolete floppy drives
continue reading ...
Started as a custom project, the Floppy Disk Drive Replacement Kit (FDD-RK) developed by MEET is a solution to extend the lifetime of products containing the now obsoleted Floppy Disk Drives (FDD) featuring the so called "industrial (or professional) interface" (see Note below), such as SONY MFP520-2 or Panasonic JU-313/323/363.
Since spare replacement parts for these drive are no longer available, alternatives were sought to substitute defective parts.
MEET found the solution! The replacement kit is made of a standard floppy drive (PC version) and a small hardware adapter board to be inserted between the drive and its ribbon interface cable. The hardware adapter regenerates the signals required by the "industrial floppy drive" interface based on observations of all the remaining signals and information available from the floppy drive.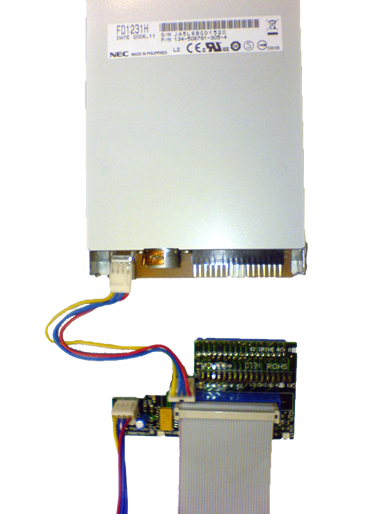 Note: The interface (ribbon cable) of the "industrial/professional" FDDs carry some additional signals compared to today's standard PC (commercial) versions, which provide such informations as disk insertion or FDD drive's motor running at nominal speed. Host controllers designed for these FDD's require these signals.
---