USBKey product release
continue reading ...
MEET officially releases its latest product called USBKey. As its name implies, it is a USB peripheral that emulates standard keyboards (and mice). The device, which operates without requiring any external power supply has a size only slightly larger than a cigarette box. With it, the user can make any mechanical or electromechanical switch (or an electrical signal) act like a keyboard or mouse key. The device can accommodate up to 10 such inputs. The action triggered by each of them is fully configurable by means of a configuration utility (included in both PC and Mac versions). Read more about USBKey here.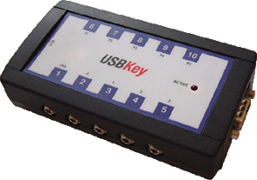 ---