Universal RS-232 Adapter
continue reading ...
Driven by a practical need of our engineers working on customer systems having various types of RS232 cables and connectors (9 pole, 15 pole, DTE, DCE, null modem, etc,) it was found unpractical to keep carrying around a large number of cables and adapters.
Therefore, our engineers developed what we call our "Universal RS-232 adapter".
The nice feature about this small universal adapter box is that it can connect any combination of RS232 connectors (15 pole Sub-D female or male, 9 pole Sub-D female or male) and any kind of wiring (DTE, DCE, null modem, etc.), by automatically sensing the required type of wiring needed and establishing the connection.
And best of all, the device does not need any power supply because it can steal the (little) power it needs for its operation from the RS-232 data lines, without affecting the data transfer. Therefore, it is always ready for use.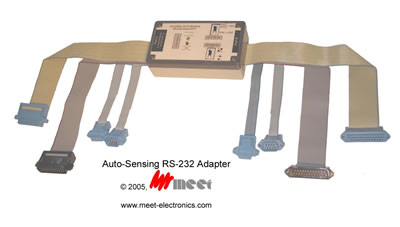 ---