SUPSI's project of the month: Wavetester
continue reading ...
The Wavetester, MEET's state of the art moisture sensor technology was developed in collaboration with a team of researchers of the TTHFLab of the University of Applied Sciences of Southern Switzerland (SUPSI).
Due to the exceptionally positive results that this project generated, it was awarded as SUPSI's "Project of the month" in December 2004.
Read more here (pdf, 108 kB).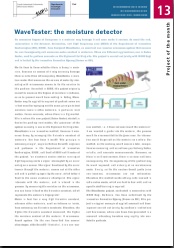 ---